With rent and home prices going up like a rocket, I started wondering if it was possible to just chuck it all and make your home on a boat somewhere. Maybe I could live on a boat or a houseboat or a shantyboat under a tree somewhere on the water. This idea seemed appealing initially, without knowing the facts. So, I started digging deeper.
Did you know that in 2010 there are estimated to be 50,000 people making their home on a boat just in the USA? The number has only increased since then.  The worldwide estimate is upwards of way over 100,000 people living and often working on boats. The truth is that the government doesn't really know because many folks are living on a boat. Because they use an on-shore address as a base for their mail. 
These are not the crusty old hermits you see in the movies. Today, people who choose to make a home on a boat include retired seniors, established families and young millennials. They all have different reasons for living aboard boats, but one of the popular reasons is location. Often you can find a boat slip, marina or even just a place to drop your anchor in areas that you might not otherwise be able to afford.
I've got three basic questions:
1, What kind of boats can you live on?
2. Where can I live on a boat?
3. How much does it cost to live on a boat?
So, lets start with:
1. What Types of boats can you live on ?
The types of boats you can call home vary from houseboats and trawlers to sailboats and narrowboats.There are folks living on yachts and others who might be considered "living in a van down ON the river." But regardless of your financial situation there is probably a boat for you.
Cruisers/ trawlers
There are a great many things about trawlers that make them the best choice. And a few downsides. But what exactly is a trawler?
A trawler is a displacement boat that is built to take the pounding of a tough day at sea. They can be designed for fishing or just for exploration and travel. The main point of a trawler is that it is a safe platform for living aboard. The wide boat hulls offer a comfortable "home on a boat" experience. (Here's a good site on trawler living,)
On the downside, a trawler is slow. Being a displacement type hull, you can only do hull speed. When you look at a 49' boat hull the top speed is only 9 or 10 miles per hour. If you are trying to get somewhere safe before the storm hits, you might get a little anxious puttering along. If you want a deeper look at trawlers, check out the article at Betterboat.com.
Sailboats
Sailboats, unless they are really big, offer a sort of cramped living arrangement. The shape of the hull is designed for sailing and the living is built in around the hull shape. The kitchens are not laid out for comfort as much as to keep you from falling over when sailing. The sleeping rooms are often "v-berths" that let you cuddle into the front of the boat. It's not like a regular bed most of us are used to.
But all of this "discomfort" is the price you pay for the best part of living on a sailboat. Sailing! Pulling up anchor and taking off for St. Thomas or Bali. The lifestyle can be as expansive as your pocketbook allows. But if you are just going to be living on a sailboat in a marina and going to work everyday, it would take some serious getting used to.
Sailing Project Atticus. This is a youtube channel that I have been enjoying for the last couple of years. The creators are a young couple named Jordan and Desiree. They have experienced and documented just about every problem you can have on a sailboat, along with some of the best times you can have living on the planet. You will love their underwater videos too.
Houseboats
Houseboats offer the most "home" like experience. They are usually built to resemble a regular home — as much as possible.
Living on a houseboat has intrigued me for decades. When I was young and just starting college I used to drive past a big marina in Ft. Lauderdale everyday on the way to class. One big covered area was always busy with the production of houseboats. I would often stop and watch through the chain-link fence as they progressed daily. First building the wood frame then covering it with plywood and fiberglass. Then they built the "house" part. I fell in love with the idea.
A little while later I found one for sale. It was parked at a public dock on New River right in the middle of downtown Ft. Lauderdale. I checked with the town and they said my dock fee would be $100 a month. I talked my buddy into splitting the place. The price was only $2,000. I had dreams of bachelor heaven dancing in my brain.
I had driven by the boat as soon as I saw the ad. Now, with money in hand I made an appointment to meet the owner at the boat to see the inside and inspect the boat. When I arrived at the dock I learned how quickly your dreams can fade away, or in this case sink.
Yep. There was my future "party boat" halfway to the bottom of the river. One pontoon had filled up with water and was slowly dragging my hopes to the bottom. As I stood there watching I thought about coming home someday to see all my possessions at the bottom of the river. Needless to say, the boat never happened, but the dream lives on. And not my dream only.
Thousands of people live in houseboats of all kinds. In Seattle, Washington, on Lake Union there are houseboats floating on logs. Some of these houseboats are decades old. Other houseboats are built on big concrete barge hulls that actually have basements! Most houseboats spend their lives anchored in one or two spots. But others have inboard motors and can cruise the lakes for days at a time. You can even rent them on AirBnb for vacations. (Here's a site with more details on houseboat living prices.)
Many people save money by building their own houseboat. And small houseboats can even be towed to the lake and used as a boat or a camper. But, you won't be crossing the ocean anytime soon in a houseboat.
Narrowboats
Historically, boats have been built that reflect the needs of the local areas. This is really evident in the "narrowboats" of England and Europe. They are designed with a maximum width of 7' in order to navigate the narrow, ancient canals and locks. Originally, they were used to transport coal and grain throughout the country. They were slowly replaced by the modern trucks and trains.
In the last few decades the old boats along with shiny new ones have found life as liveaboard homes. With the expansive network of canals, young folks as well as retirees are re-exploring the countryside. Also the ability to dock a narrowboat right in downtown areas have made the narrowboat the "home on a boat" choice for many young professionals.
I don't think you'll be taking to sea in one of these, but to live on and travel the backwaters of Europe and Great Britain they are perfectly designed for days of leisure.
Try one of these for more info, (Cruising the cut) (Narrowboat living)
2. Where Can I live on a boat ?
Marinas
One of the most popular places to live year round on a boat is in a marina. It's like the "trailer park of the seas," but usually much nicer. Modern marinas offer a variety of services, often including bathrooms, pools, and repair facilities. You pay nightly or yearly, depending on the park. At the dock you will usually get water and electricity. Dump stations are provided for your sewage needs. If you are living full time at the marina you will probably need one that provides a parking spot also.
Marinas generally charge by the foot. A marina on the ICW in North Carolina is currently charging about $9.00 a foot per month. You have to add your electricity to that if you are staying monthly.
Public mooring and docks.
Many towns and cities along the waterways offer overnight dockage for a fee. Some are even free for a night or two. They might not feel as secure as a marina, but they are cheaper.
Anchoring "on the hard"
           Anchoring "on the hard" as they call it is the boater's form of boon-docking. You just find a nice quiet spot along the waterway and drop your anchor. Most towns and even some States (like Florida) have set rules for anchoring this way. So, you must make yourself aware of local laws. In many places you can usually stop for the night, but check first. If your plan is to just living on a boat and not traveling, then a marina is definitely the best choice.
In the Caribbean, you will find many spots to just drop your anchor, but first you have to check in with the country and follow their rules for visitors. (and probably pay a fee for the privilege)
3. How much does it cost to make a home on a boat?
Ah, finally the BIG question. Living on a boat does cost money. Doesn't everything.
I've done a lot of research into this and the truth is, it might cost the same or more as living on land. It might be cheaper too, But you can't always put a price on the experience.
Marina or dock fees will vary depending on where you are. A typical marina in North Carolina can be found for $10.00 a foot per month. I checked with a marina in Brunswick, Georgia and it would cost $17.50 a month per foot on a yearly basis. Plus a $24.00 "environmental" fee. So, for a 32ft. Cruiser it would cost about $525 a month. (10% discount for yearly) This includes concierge, wi-fi, water, free laundry facilities, bathrooms, yacht club and propane grills on every dock. There is also a charge for metered electricity.
The cost of a boat will have to be considered also. If you are fortunate enough to buy the boat for cash your expenses will be less, but if you finance the boat your monthly payment will have to be added into your costs. Obviously, the price of having a home on a boat can vary greatly. Assuming you're not a Russian oligarch your boat may be as little as $10,000 for a fixer-upper to $50,000 for a decent smaller trawler, sailboat or houseboat. The mortgage for ten years would be around $500 a month. I know $50,000 seems low to some of you but, I'm not considering a boat in perfect condition, just one you can live on and maybe travel a little.
Every boat needs maintenance and that costs money. The pumps break, the hull needs regular cleaning. The price for repair and maintenance will depend on how much you want to get your hands dirty. If you're an average person the price to hire maintenance work will soon force you to learn all you can about boat repair and maintenance. The general number I've found from researching is to figure about 10% of the boat price a year on repairs. So, for a $50,000 boat that comes out to about $400 a month.
The final large expense to consider is boat insurance. Newer boats are less to insure than older boats. Also it's cheaper to insure a boat in Utah than it is in the Bahamas, (think hurricanes) Research here shows that your boat insurance will be about 1 -2% of the price of the boat per year. For a $50,000 boat this would be between $500 to $1,000 a year. And yes, you will need insurance. If someone falls and gets hurt or if you scratch that big mega-yacht next to you, you will be glad you have insurance.
Let's add up the big costs .
Boat mortgage payment ( $50,000 boat) $500
Marina fees with electricity $600
maintenance and repairs $400
Insurance $ 75
Total $1,575 a month.
If you think about it, these costs can even be lower if you own a cheaper boat , or if you pay cash for the boat or even if you stay at a cheaper marina.
What about building a boat?
I've been thinking about a long simmering dream of mine. Can I build a houseboat, just a small trailerable houseboat? So, I did some research on towable houseboats and the answer is clear.
You can build a small trailerable houseboat. And with some good plans and some time on your hands you can build a sweet little houseboat you can tow anywhere. Just as there are many different styles of houseboats, there are many different ways to build a little houseboat. But usually, for a small towable houseboat, the materials are plywood and fiberglass.
Plans online
The Delta Q by Glenn-L is a beautiful little house boat design you can tow to the lake. It's only 8 ft wide and with a length of less than 25 feet it will easily fit on a trailer. The little houseboat has a weight less than 2,000 pounds when finished. It can be towed by many mid-size vehicles as well as trucks. The best thing is the support available from Glen-L. They have informationeverything on their site including types of wood, fiberglass techniques, and building styles. You can get lost for hours reading and learning.
The Millie Hill by Sam Devlin is also a well designed trailerable houseboat that you can build in your own backyard. Devlin has several versions going from 20 ft to 28 ft. Most can be built out of plywood and fiberglass. One of the nice things on their site is that you can download some simple study drawings for a buck. This will give you a feel for how the boat will be inside.
Dianne's Rose by Roy Schreyer is a sharp little buildable houseboat. It's big enough for overnight or even longer camping adventures. The best thing about it, in my opinion, is the light construction. It can be easily towed. The boat only sits in the water about 6 inches, so it can go just about anywhere on the lake or river.
Most of these little houseboat designs can be pushed around with just a 10 HP engine and that's a money saver with gas at these prices.
Store bought towable houseboats
There are many types of towable houseboats on the market. I've only included some of the ones you can build with simple at home tools. Many trailerable houseboats can be purchased that were built in a factory, but where's the fun in that. If you build your own little houseboat you can design a lot of the layout and add or subtract the things you want.
There are other home built houseboat possibilities also. Many folks don't build their own hulls but instead build on pontoons. (or sometimes barrels) Buying a factory built pontoon boat and building the house part right on the deck can save time. It can also help with insurance problems later. You can add in a third pontoon for extra buoyancy to make up for the additional weight.
One of the very real problems I've noticed in my research is that of insuring the houseboat. If this is just to be used on a trailer it can often be covered by your home or auto insurance. If you are going to moor it at dock for the season you will usually need some type of marine liability insurance. Marina operators don't want to risk the dock of the other boats at the dock to some
"home built" floating thing without making sure you have adequate liability insurance. This can get difficult, if not impossible, to obtain. Check with your insurance company before you start building.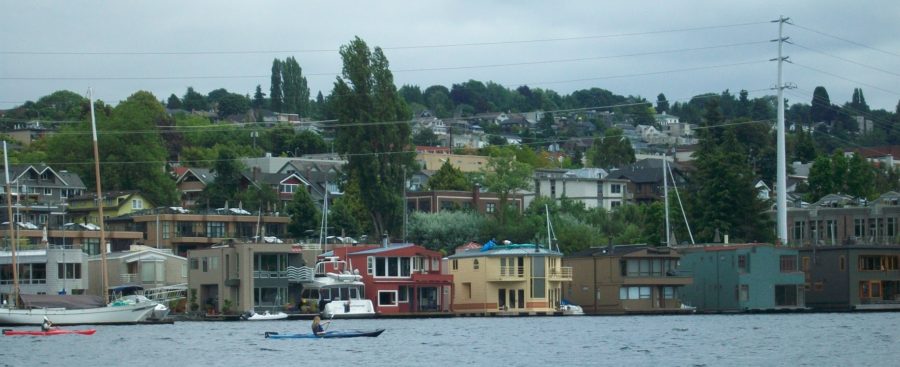 Home built houseboat problems
If the boat is purely a home built boat you will usually need to get a new Title or registration to have it registered as a home built boat. You may be required to show all the receipts for materials and plans to prove you built it and didn't steal it from someone else. This is where building it on an existing pontoon boat has its advantages. It comes with existing paperwork. Insurance companies are more likely to insure a boat that was commercially built and has an existing title or registration.
Where will you build it? Will your neighbors be delighted to hear you sawing all day long in the backyard. I have some great neighbors, but they are too close for such a long term disruption. However, if you don't like your neighbors, this could be enjoyable. Having a large garage or shed would be the best thing when building the houseboat. It would cut down on the noise as well as keeping you dry.
Cost of materials
I've found that the prices in today's dollars can be between a few thousand to over $20,000 or more to build and fit out a small trailerable houseboat. While this is not a huge amount for most boat owners, it is something to think about when you are building it yourself. It brings to mind the old saying about a boat being a "hole in the water you throw money into." Because you are building it yourself, you will not easily be able to just sell it and get your money back. This is to be considered a labor of love, if not outright charity. But it might also be the most fun you've ever had.
Towing a trailerable houseboat
You are going to need a good towing vehicle. With the possible exception of Dianne's Rose, most trailerable houseboats are going to require a truck or sizeable SUV to pull them around. Even if your car says it will pull 3,500 pounds, it does not mean it will do it uphill on a wet, slicky boat ramp.
Docking it for the season
If you are going to leave this at a dock for the season you will need to consider some extra things.
Years ago when I lived in Ft. Lauderdale, one day we had a rainstorm that dropped almost a foot of water in an hour. Wow! That was quite an event. It was even more so for the boats that did not have adequate bilge pumps. Many were filled to capacity and sank. Many others were seriously in danger of it. If you are not there all the time (and who is) you will need a bilge pump and maybe a backup bilge pump too. You will also need power to run the pump, and probably backup power just in case of a power failure.
Having a sunken boat recovered can be expensive.
Building your own trailerable houseboat is a genuinely plausible idea. And the memories you can make building a trailerable houseboat with your family and friends could be priceless. But you should think it through carefully. There are a lot of things to consider before buying the first piece of expensive marine plywoood.
I'm always looking for cheaper ways to live and I wondered, can I save money living on a boat?
It turns out that the answer is yes . . sometimes.
Many smart folks are living on a boat full time and saving money in the process. The costs are different to living in an apartment or house. But the costs are often less and can add up to real savings. And the experience can be priceless.
What kind of boats can you live on?
There are many types of boats, houseboats, sailboats, tugs, trawlers, cabin cruisers to name a few. You don't need a houseboat but, it you are living on a houseboat, you do want a boat with enough room to be comfortable.
Many people are ven living fulltime on sailboats. And you don't even have to know how to sail if you are just going to use it as a floating home. It does have to be in good enough condition to leave all your possessions on while you are away and not worry that it won't sink. So don't think too cheap.
One of the upsides to living on a boat or a sailboat is that they are plentiful. Everywhere you look you can find decent sailboats for sale. For a few thousand dollars you can find a fairly decent little sailboat for sale. If you are not going to be sailing you don't need to worry about the condition of the sails and rigging. And if you are going to be at the dock all the time, you only need a small outboard motor to make it "legal." It should be able to move to be considered a viable boat.
Marinas don't want derelict floating piles of junk. They want boats that can sail or motor on their own power. I've recently seen some nice looking 30' sailboats for $4,000 to $10,000 bucks that I would be quite happy to call home.
I think the main downside of a sailboat is the lack of room. A small sailboat is designed to sail and living is second in importance. The beds are smaller and the kitchen or galley is usually the bare minimum needed. Did I mention the bathroom or "head?" A nice full size bathroom will be the thing you miss the most. The shower will be small and wet. And the toilet often can require the skill of an Air Force bombardier.
Of course there are other options.
Old cruisers and trawlers make great liveaboard boats.
A quick check of the Boat Trader site shows that for $15,000 to $20,000 you can get a nice 1980's era cruiser with all the comforts of home. The extra room in these boats compared to sailboats is definitely a plus. With no mast or rigging to take up space they offer more comfort and can quickly feel like home.
They usually have inboard engines which will require maintenance just like a car. Because they are boat motors they will usually cost more to fix.They don't have to be in the best shape, they just need to work. You are probably not going to be going far anyway. You can save a lot of money if you learn how to do some of the maintenance yourself.
How much does it cost to live on a boat?
When it comes to costs of living on a boat several things top the list.
First is the initial price of the boat.
If you have to finance the purchase you will have to consider the monthly cost of the boat itself. If you are fortunate enough to buy for cash you should still figure on dividing that amount by ten years. Divide the price by 120 to get the monthly cost.
So, if you buy a decent cruiser for $18,000 that comes out to $150 a month. (plus any interest if financed) If you keep the boat in good shape you may get much of this back if you sell it ten years later.
Second is the maintenance costs.
Living on a boat will cost money. Everything breaks, so you have to figure on replacing things like air conditioners, refrigerators, stoves, pumps and fixtures. I'd figure on $25 to $50 bucks a month. Also, periodically you have to haul out the boat and clean the hull. If you are moving about you will have to do this every year. If you are just sitting at the dock you might get away with once every 2 or three years. You could figure hauling out the boat and cleaning it yourself at $ 600 for a small cruiser. This comes out to $25 bucks a month.
Third thing I'd consider is the dock fees.
In 2022 a 37' dock slip in North Carolina can be had for @ $400 to $500 a month for full time living. To this you will have to add the cost of electricity. This varies with each boat but, $50 bucks is a good number to work with.
Prices will vary around the country. At a nice marina in Palmetto, Florida a 30' boat will cost @$600 a month plus electricity. But that includes bathrooms, bar & grill plus a heated pool. Onsite staff is also available for your needs.
Finally, you have to have Insurance
The cost of boat insurance will vary from area to area and boat to boat. Obviously, living on a boat in Florida is more dangerous than living on a boat in Tennessee and prices will reflect that. Let's see what insurance might cost in Florida for a 30  foot cruiser/trawler.  According to a Progressive boat insurance site, the average boat insurance in Florida is @ $600 bucks a year. Since our theoretical boat will probably be older, let's double that and figure $1,200 bucks a year. A hundred bucks a month is a good number to work with..
Conclusion
If you add up all the costs:
$150 for the actual price of the boat over 10 years. Assuming it is $0 at the end. (worst case)
$50 for maintenance
$50 for electricity
$25 for bottom cleaning
$550 for marina fees
$100 boat insurance
Total $ 925 a month
So, for about a grand a month you could be living on a boat year 'round. If you don't like your neighbors, or their dog or the view, you just start up your engine and move.  You can't do that with your home. And $1.000 a month is a pretty good price for a place to stay. Did I mention the heated pool?